Hope you had a great weekend! The weather was BEAUTIFUL here in Georgia! Perfect springtime weather!

On sale this week thru Saturday, April 26, is select Cottontail Items. Also, for all my blog readers, buy one Luggage Tag, get one FREE! Please leave me that information in the check out notes. This offer is good thru Saturday too. (If you don't see your theme, go to Design your own Luggage Tag).

I have been wanting to tell you about this website I have been to a few times and plan on going back again and that is Shampowder.com. This is dry shampoo you daub on your roots and fluff in your hair to take away the greasies and give your hair body! I am loving not having to wash my hair every day! I have searched for a product like this around town and couldn't find it, especially one for dark hair. When I was looking at Amy's portfolio (Amy did my website), I discovered, Shampowder! Jayne Polan is the owner and is very sweet! She's getting quite the advertising too! She's been on Good Day Sacramento, among others. This Friday Shampowder will be making their debut on QVC at 2:00 pst and 5:00 est ... check qvc.com under BEAUTY BEAT to see your listing time! Moms NEED Shampowder! Kids keep you busy and wouldn't it be nice to save some time and also keep your hair looking healthier by not washing it all the time?! Jayne is offering my readers a 20% discount. This code is good one per customer. Click on this link to get your 20% off: http://buttercreamcosmetics.com/?code=FarmhouseFive. Check her out! It's such a darling website!


Another website I just discovered yesterday, thru Amy's portfolio again .. is Monogram Chick! OMGosh, she has the cutest items. I especially love the monogrammed cosmetic bags! Natalie, my 12 year old and I just love them! We know exactly what our new birthday gifts are going to be! She has lots of items for baby, kids, mom & home. Sarah is the owner/designer and she is just too sweet. We've been writing back and forth and she is a doll. Sarah is also offering a discount to my readers. The coupon code is: FarmHouse5. Just type that in exactly and get 10% off your first order. This code is good one per customer.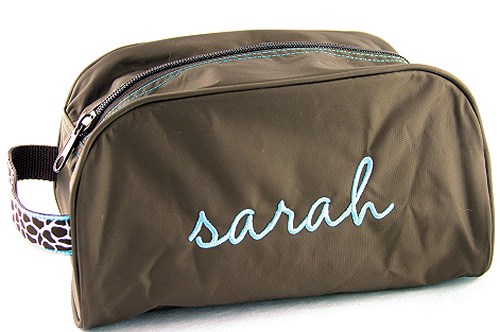 I am currently designing a logo for another monogramming business, I don't believe it will be an online business, she has an established business in Louisianna. I'll share more about her soon!!

Have a great week! --Therese