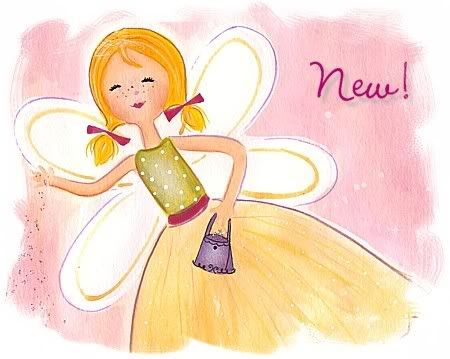 YAY! The weekend is finally here. All week long I think "when is Saturday?" (so I can sleep in... if you call getting up at 7:30-8:00 sleeping in... ha!) Of course, all you mommies out there that get up for nighttime feedings .. I remember those days ... they are rough... wonderful moments, but rough! I do like my sleep! ;-)
Anyhoo.. some new artwork has been posted on my website:
Newest Items
. This list includes new fairy art, cowboy art, MiGi Sweet & Splash art, and Farm animals/tractor art. I still have quite a list I'm working down. It's been fun!
This weekend only
buy any of the new art and get 10% off your purchase. Code in checkout: NEWEST0208.

I was in Walmart the other day and I couldn't believe the frame selection they now have! I'm telling you these black gallery frames with white mats look just like a Pottery Barn frame! They were only $7 or so!

This is an 8x8 frame with a 5x5 opening. If there is a letter print you would like in this size OR another little print, such as a fairy, email me and I'll tell you how to order a 5x5 print. A grouping would be cute too. I found some 11x14 black frames (no mat) for $5 each at Walmart too! I think they got a new Buyer for that department.. you have to check out your local WM. The frames are not available online, I checked.
Speaking of mats, I found these on
Pottery Barn clearance
! These will go FAST, so order soon! 3 mats for such an awesome price.
These
picture hangers by Pottery Barn Kids
are only $7.99 and come in pink or green plaid:
Below are some other cute finds are great prices. Just click on the pics to take you to the item.

From $40 to $14! Looks like a fun birthday party game!
Metal Vintage Cars! From $40 to $10! cute accessory!
I met this great lady, Teri, who has a blog called "My Brand Name Baby" for moms that wear sweats while their babies wear couture. She was actually the winner for my monthly drawing last month. She received & liked her Letter Print and PicturePal and put them on her blog. Her blogs are lots of fun to read, she has some really good finds! Check it out and you can be entered into her drawing for a Letter Print!

I just got back from a Hannah Montana 3-D Movie Concert with my daughter and friends. It was pretty cute! Have a good weekend!